It's obvious that neglected lawns are ill-equipped to ward off lawn diseases. However, even well-maintained lawns may occasionally fall victim to these pesky ailments. Some common lawn diseases found here in Washington include red thread, necrotic ring spot, and grass melting out.
You shouldn't have to battle these lawn diseases without the proper industry knowledge and techniques. Here at Sure Green Lawn & Tree Service, we take care of the entire lawn disease treatment process. Our lawn care providers offer professional lawn disease control for yards in Liberty Lake, Spokane, and Spokane Valley, WA.
---
Red thread is a lawn disease caused by low nitrogen levels in your yard's soil.
Red thread is a lawn disease that typically shows up between late April and mid-June. However, it can appear during the majority of the growing season in Spokane Valley and surrounding areas if the conditions are just right.
Red thread is relatively easy to spot. It usually takes one of two different forms:
Red thread-like branches on the grass's surface
Fuzzy pink clusters
The red thread spots of your grass are oftentimes up to eight inches in diameter. In either form of red thread growth, the underlying grass is usually light brown in color.
This lawn disease is most often caused by low nitrogen levels in your yard's soil. Our lawn care providers will develop a course of action for your grass to help it fight off red thread. This usually involves restoring your soil's nitrogen balance, and we will perform other lawn disease treatments as necessary.
---
Necrotic ring spot is a lawn fungus caused by excessive watering.
If your lawn has experienced excessive watering due to heavy rainfall or poor irrigation practices, it may have a lawn fungus called necrotic ring spot. Necrotic ring spot appears as straw-colored rings on your grass, and the rings can be anywhere from 4 to 16 inches in diameter.
Over-active irrigation systems are one of the most common causes of necrotic ring spot.
Because of its prevalence in Spokane, our lawn care providers have a specific treatment for this disease. We apply our necrotic ring spot treatment in May to get rid of existing spots and fend off future damage. This treatment restores your soil's beneficial microbial activity, which helps your grass grown green and full.
---
Melting out begins on grass blades and makes its way down to the roots.
Melting out is caused by the fungal pathogen known as Drechslera poae. It most commonly affects the cool-season grasses of our Washington area including Kentucky bluegrass and tall fescue.
Melting out first appears on grass blades as either black or purple spots. From there, it will make its way down to your grass's sheaths and roots if left unaddressed.
This lawn disease is most prevalent during April and May, so our lawn care company has created a treatment schedule to most effectively address it.
---
Has your lawn been affected by any of these lawn diseases? Call us today.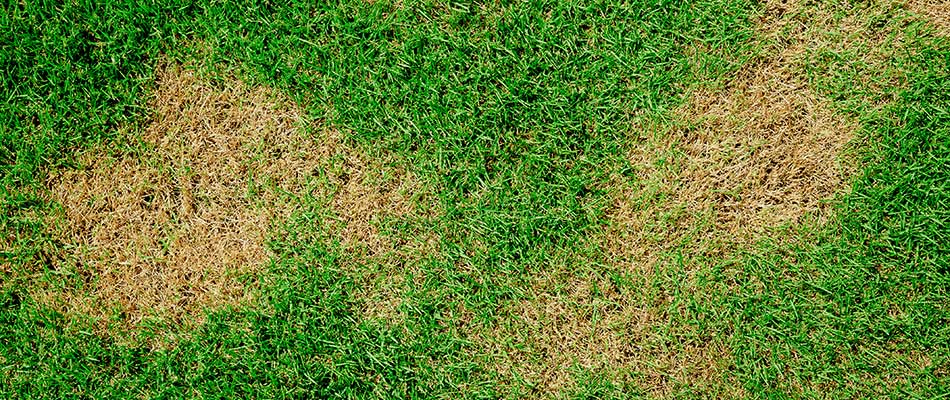 If your lawn has been affected by any of these lawn diseases, you need to address the issue immediately. This way, you can prevent it from spreading and inflicting long-term damage on your lawn. Call (509) 927-6767 today for comprehensive lawn disease treatments in and around Liberty Lake, Spokane, and Spokane Valley, WA.