If your yard has been recently fertilized, you may be wondering when your family can resume its normal use. If your kids and pets get a lot of use out of your yard, it can be difficult to get them to stay off of it.
Here at Sure Green Lawn & Tree Service, Inc., we offer fertilization services for lawns in Spokane, Spokane Valley, and Liberty Lake, WA. Our lawn care team provides everything from regular fertilization to weed and insect control.
In this article, we'll explore how weed control and insecticide can affect kids and pets and how long they should stay off of a recently fertilized yard.
---
How Do Weed Control & Insecticide Affect Kids & Pets?
If children accidentally ingest a product meant for weed control and insecticide, they may experience acute health effects like:
Dizziness
Nausea
Irritation of the nose and throat
Itching, stinging, and burning of the skin
Blisters and rashes
Children with asthma may have especially severe reactions to insecticide exposure.
Pets may experience symptoms like drooling, vomiting, diarrhea, and nausea.
In extreme cases, long-term exposure to weed control and insecticide products may result in issues like:
Damage to the brain and nervous system
Reproductive problems
Damage to the kidneys, liver, and lungs
Certain types of cancers
Birth defects
---
How Long Should Kids & Pets Stay Away from a Fertilized Yard?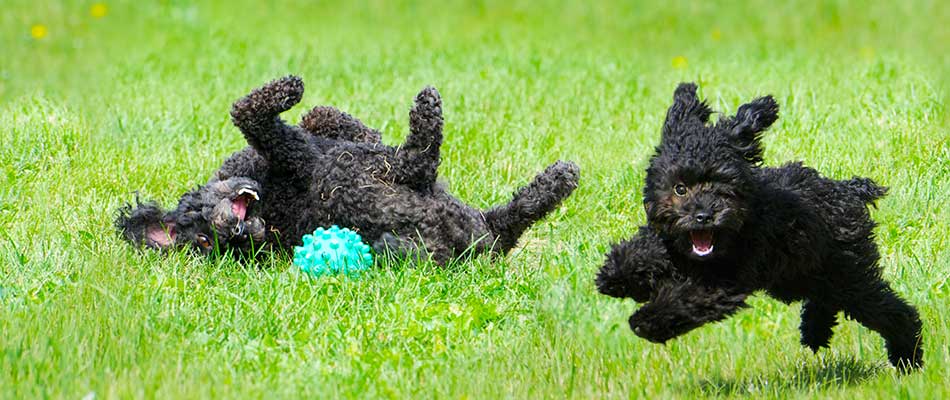 There is no clear-cut answer for when you can allow children and pets to use your lawn again because it depends on the type of fertilizer you use. Here at Sure Green Lawn & Tree Service, Inc., we use both custom-blended and organic fertilizers. If kids and pets go on a recently-fertilized yard too soon, not only can it compromise their health, but it can also decrease the effectiveness of the fertilizer.
Liquid custom-blended fertilizers are absorbed more quickly by your lawn. Kids and pets should stay off your fertilized lawn until it appears visibly dry. Liquid fertilizer can be difficult to spot. You can gently water the lawn after fertilization. Once the lawn is dry, the liquid fertilizer should be settled. From there, kids and pets can freely roam your lawn.
If you request organic fertilizer, we use a granular material that is comprised of dehydrated poultry waste. This solid fertilizer takes a little longer to settle in. Though organic fertilizers are less likely to have negative effects on kids' and pets' health, we recommend waiting 24-48 hours before trafficking a fertilized lawn.
Generally, 24-48 hours is a safe length of time for kids and pets to stay away from a fertilized yard. Use visual observations to make the best determination for your specific yard.
If you want to be certain that the lawn is free of remaining residue, don't allow anyone on your lawn for 72 hours.
---
Are you interested in lawn fertilization for your property? Call us today.
Our team is available to offer lawn fertilization services for your property in Spokane, Spokane Valley, Liberty Lake, and the surrounding areas. Call us today at (509) 927-6767 to get started. When you recruit our lawn fertilization services, just be sure to keep this information in mind so you can keep your family safe and help your lawn thrive. Our lawn care professionals can also advise you on safe practices after a treatment.